The Toronto Stock Exchange has closed down because of an un-specified incident.
Three updates about trading "having issues," were followed by a decision to shut markets down for the rest of the day at 1:36pm Eastern.
Equity Guru is looking in to the specific problem, and will update as we learn more.
UPDATE:
The TMX group referred us to their twitter feed for updates.
The latest update has them setting the rules for the closing and re-opening prices.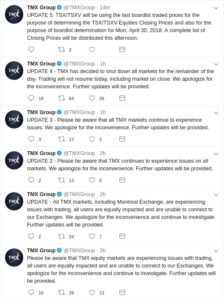 It's still unclear what the glitch is, but we're looking into the early morning circuit breaker halt of Toronto miner Detour Gold, who was off 30% when the auto-halt hit, and closed there on enormous volume. They had published a revision to their mine plan this morning.
Stay tuned, because we'll have more on this in today's Here's What Happened.
FINAL UPDATE:
The exchange issued a news release that says that they have identified the "technical issue that effected services," but don't say what it was. They plan to be open again on Monday for business as usual.