Kelowna, BC based cannabis cultivator GTEC Holdings (TSX.V:GTEC), known for courting a profile that exceeds its footprint and production volume, found itself among the volume leaders on the TSX Venture exchange this past Friday, after trading 1.7 million shares to close at $0.245, up $0.045 for a 22.5% gain on the day, after trading about $400k worth of stock.
Jay over at data-heavy smallcap site The Deep Dive drew some vicious blowback from the company and their small (but loud) twitter-based army of supporters this past summer when he asked if the company was functionally bankrupt, which we bring up here only as an example of the active and aggressive promotion that GTEC has been since its inception. The name started off strong again this am with 600k shares traded so far, and action is what makes stocks relevant, so it's time we took a closer look at GTEC.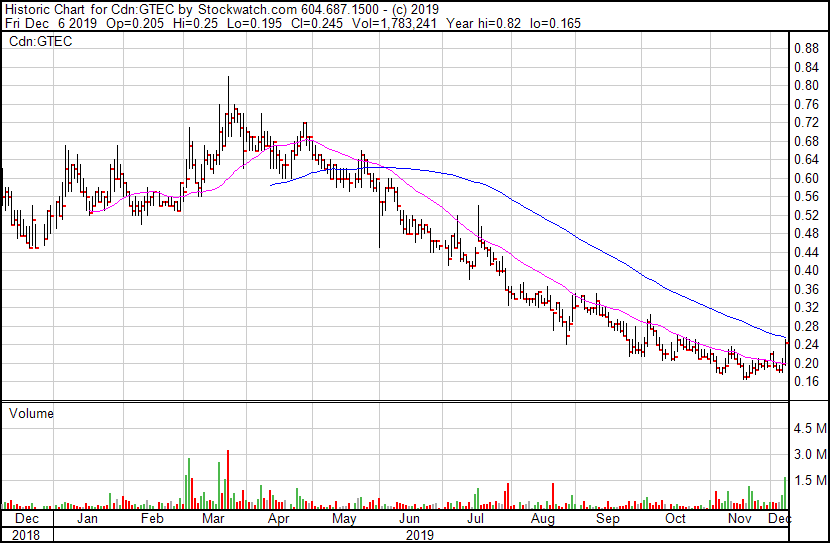 Since giving up on a wild goose chase to buy an unused, pre-license cultivation asset from Canopy Growth Corp. (TSX:WEED)(NYSE:CGC) in September, and selling some Alberta retail cannabis licence assets to Fire and Flower (TSX:FAF) to free up some cash, GTEC has been making a lot more outgoing noise about their core business. In a December 2nd press release that reads like it was written by the captain of a cheer squad, GTEC patted themselves on the back for completing the first shipments of "ultra premium" product lines that they developed all by themselves to the BC and Saskatchewan provincial distributors. GTEC subsidiary Alberta Craft Cannabis Inc. is presently one of 71 different vendors shipping product to the BC Cannabis distributor. GTEC's propaganda lists four "rare, top-shelf cultivars", two each from labels BLKMKT and Tenzo. They proudly report that their "initial product launch in the Province of BC sold out on its first day."
Get it while it's hot!
The release doesn't say anything about the volume shipped in that first order or any other order. BC's online cannabis store presently lists two in-stock products from Alberta Craft, Wedding Crasher and Cherry Punch. Both are available in 3.5 gram portions for $49.99, tied for the most expensive eighths in BC with Experion Technologies' (TSX.V:EXP) MAC 1, Aphria Inc. (TSX:APHA)(NYSE:APHA) subsidiary Broken Coast's Stryker, and Westleaf (TSX.V:WL) property We Grow BC's Qwest Reserve offerings. All of the top end eighths are currently listed as in-stock.
BC lists 96 different 3.5 gram dried cannabis products, only nine of which are priced over $39.99. That count fell since our last look at the BC Cannabis store this past October, when there were 131 3.5 gram dried flower products listed in BC, 21 of which were priced above $39.99. The average price of all listed eighth-ounce dried cannabis products today is $32.50, and the thirteen 3.5 g products that remain listed but are out of stock average a list price of $30.29, suggesting a consumer purchasing habit that skews towards value.
Third place is still pretty good…
The Glorious Message of Information out of Kelowna presently being dutifully disseminated by the GTEC faithful includes the dubious claim that GTEC is printing "sector leading gross margins, anticipated to increase with economies of scale." The fine print tells us that GTEC's status as a margin "leader" was determined by an analysis of the most recent financial statements of publicly listed indoor and greenhouse cultivators, indexed by New Cannabis Ventures, who did >$1M in sales in said reporting quarter. GTEC doesn't say if they're using the IFRS-compliant margin that includes fair value adjustments or a more traditional gross margin calculation used by most cannabis analysts, but it does say that the company's margin "leads" its peers from third place.
A 61% gross margin on cannabis (before fair value adjustment) is a number worth being proud of, so it's curious that GTEC didn't include it in this press release. Their most recently reported quarter (ending August 2019) was the first in which GTEC booked more than $1M in revenue, which might be why they chose the arbitrary revenue cutoff. Our own tracker only calculates the margin of producers who consistently sell more than one million grams in a quarter, because cost profiles tend to change when the scale becomes commercial. Excluding Canopy Growth, whose margin on cannabis is impossible to calculate, those cultivators averaged a 38% margin last quarter.
The 212 kg that GTEC sold on the bulk market last quarter appears to have grossed the company $4.73/gram. The premium offerings will surely do better than that on a units basis, but the volume the company can grow and ship remains to be seen. The first commercial shipment having left the shop November 26, investors will have to wait until GTEC publishes quarterly statements for the period ending February 2020 to see how these brands and bottles move bud.
The Stewardship of Supreme Leader Singhavon
GTEC CEO Norton Singhavon has a habit of casting himself as an equity-focused CEO whose stock position aligns his interest with those of the other GTEC shareholders, and Singhavon does indeed have a growing stock position. As the company he helms continues to develop facilities vended into the company by Singhavon and his partners in 2017, the option agreements that GTEC cut with the vendor group for those developing licenses dictate that the company make share-based milestone payments as they move those licenses through various regulatory phases.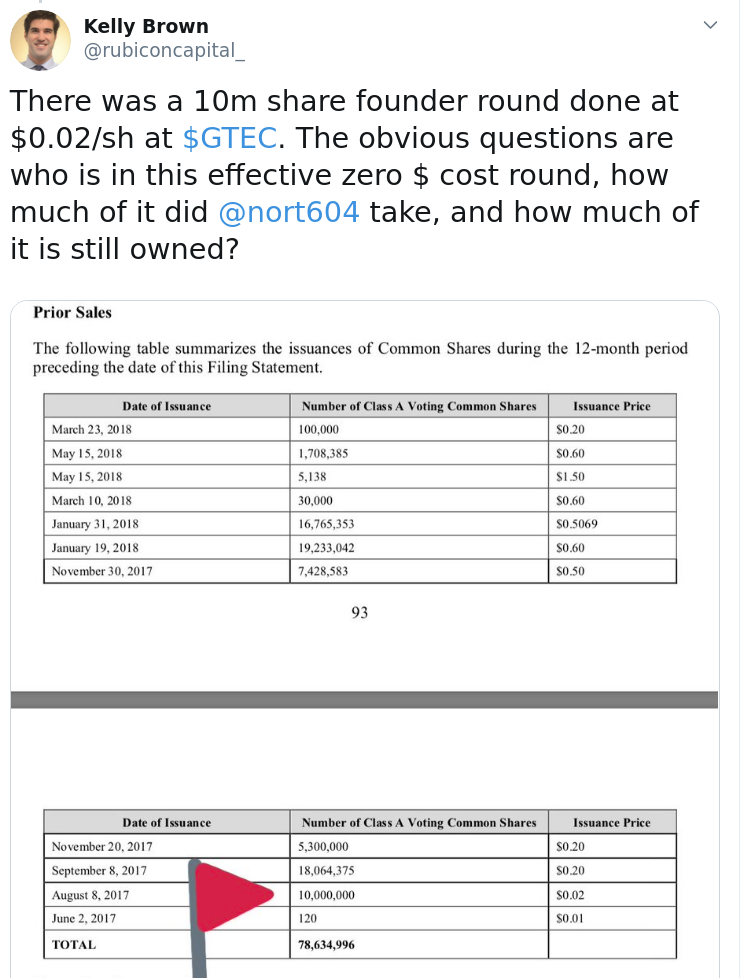 Singhavon's vendor group was issued a milestone payment of 2,222,222 GTEC shares for the Grey Bruce license this past July, and there are another 2.75 million shares due to them. There are still $1.5 million worth of GTEC common shares in milestone payments to come on the Tumbleweed Farms option, and $8.5 million worth of milestone payments due on the deal for Bio-Pharma. The only payment tied to any kind of weight-based production milestone is a $1.5 million in-kind payment to the Bio-Pharma vendors following "approval form Health Canada to increase cannabis production by at least 8,500 kg and completing construction to accommodate such increased production." There's another $2.5 million in-kind payment due when HC approves the sale of product from the notional expansion to the notional facility.
The expense of the development that secures these milestone payments is, naturally, one borne by the GTEC treasury. The cashflow statement lists six million dollars capitalized to property and equipment over the nine months ending August. It was financed in part by three separate convertible debenture issues done in 2018 to raise a total of $7.5 million. The convertibles are a long way below their $1.50 strike price, bare effective interest rates between 17% and 22%, and pay monthly coupons.