I'll be honest: I stopped paying attention to the cannabis mix remix being endlessly nattered about by interested heads in this over-the-counter pot era. These people will talk about CBD-THC ratios and the various merits of different kinds of oils and hashes for as long as you let them, and I'm out of patience for it. It gives me the same kind of crippling boredom that I inflict on people when I talk about the stock market. Overall, it's a good sign that there is a bright future for the marijuana extracts market
But the plague of real and pretend extract experts doesn't look like it's slowing down, and the trend bears itself out in the numbers. Canada's largest pot company, Canopy Growth (WEED.T), reported in its latest quarterlies that oils accounted for 19% of their revenue in its most recent quarter, and 22% the quarter before that.
Canopy has just invested in an "industrial cannabis oil extraction system […] capable of producing as much oil in approximately one month as the company has produced since extraction activities commenced in November 2015."
Organigram (OGI.V) is the only of the major Canadian producers who separates its oil sales out on a units basis. Oil accounted for 49% of OGI's grams sold in their most recent quarter, up from 22% the quarter before.
Down in Washington State, where the government keeps great sector-wide data and opens it to the public, we're seeing extracts follow the distinct upward trend in production that we see from regular weed.
This data set includes all varieties of extracts. They do break them all out but if I start playing with that spreadsheet I'm liable to turn into one of those insufferable heads from my lead and get nowhere useful. Here's a sample of the stuff they're including as "extracts".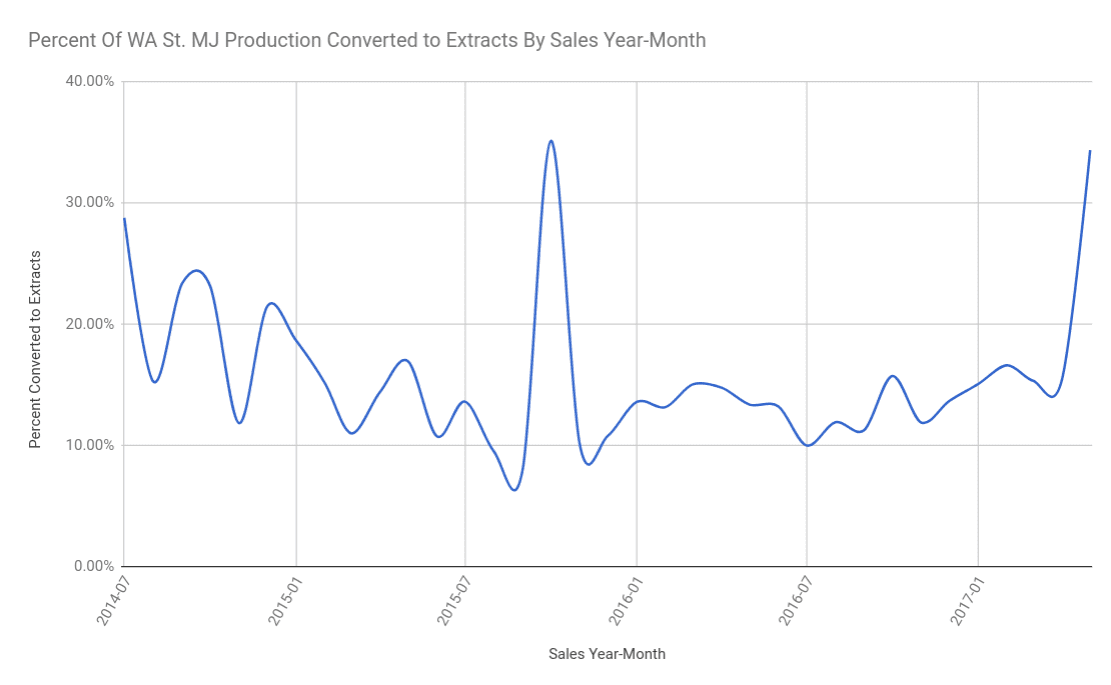 This erratic churn that we're seeing in the percentage produced is the kind of thing one would expect out of a new market, where producers are still trying to figure out the most efficient use of their yield, what sells the best, etc. I think that spike has to do with the outdoor crops coming in. Interestingly, it's hovering right below that 20% mark that we're seeing from Canopy's oil sales.
As we've written before, the chopping and screwing of cannabis is still very much a burgeoning field. This new era of enlightenment is bringing us ever more understanding about the recreation and medical merits of various kinds of mixes. Luckily for both patients and heads, there's a large, well-financed industry dedicated to both figuring it all out and making it commercially viable. That industry is going to need gear.
EG has been covering marketing client Quadrum Cannatech (QCC.C) for some time now, and we remain interested by the current and potential size of the market that they're in a position to service. We dare say that they've got the angle on selling to these producers partly because of the versatility of their gear.
It's useful to think of an extraction operation more like an scaled-down oil refinery than a kitchen. Cannabis going in one end is subjected to various amounts of heat, pressure, solvents, and other treatments, and undergoes various kinds of separation before something comes out the other end. It takes time to perfect the process, and that process has to be adjusted when the input changes.
In an effort to produce the kind of gear that gives these "refinery skips" the type of versatility and data that they need to get it right and keep it right, Quadron recently acquired Cybernetic – a company that makes machine control and automation systems. Their plan is to roll out modernized extractions systems that appeal to all manner of commercial operations. Their systems are scalable, and digitized. By all accounts, it's high-end gear befitting of a modern cannabis market that measures levels of THC, CBD, and toxins in final extracts in micrograms, and can't afford to be inconsistent.
CEO Rosy Mondin told Equity Guru that the systems being used right now by most producers are basically the same type of gear used to make the botanical oils one might find at Whole Foods. In that context, any company looking to improve their product and make consistent custom blends that stick out to retail consumers and deliver for patients are going to need sophisticated gear in a hurry. This business is very new, and the market cap reflects that.
Meanwhile, Quadron appears to have assembled a great team, and are fairly confident in their ability to play in all of the various ancillary sectors in which they've engaged. If, in fact, they can roll these machines out to the burgeoning extracts market and become a turnkey solution for processors, we could be looking at the beginning of the Haliburton of the Pot Market.
Quadron Cannatech closed at $0.215 on Friday, for a market cap of $10.3M.
Halliburton is one of the world's largest oil-services companies. It has a market cap of $39 billion and did $28 nillion US in revenue last quarter.
— Braden Maccke
FULL DISCLOSURE: Quadron Cannatech is an Equity.Guru marketing client