This article is part of an ongoing series that uses company documents to break apart and visualize data relating to the Canadian cannabis producer market.
We've noted a few times at Fundamental Hype, there appears to be an under-pricing of active growing space relative to the way the market is pricing growing space that is currently under construction or yet to produce cannabis.
For instance:
Emblem Cannabis (TSXV:EMC) produced and sold 53.9 and 50.8 kilograms of marijuana in the past two quarters. They have about a $150M market cap.
Emerald Therapeutics (TSXV:EMH) has sold marijuana in the past few quarters, and even grew some of it. They haven't published the volumes, and they haven't returned FH calls and emails looking for volume numbers, either. They outsource an un-revealed portion of that production from other Licensed Producers. There is no way to know what their under-construction greenhouses at two sites will produce in terms of volume going forward, when it will produce that notional volume, or whether or not it will be licensed for sale by Health Canada.
But, at 4 million square feet in size, the proposed facility will be enormous.
The company has a market cap around $680M, more than four times that of Emblem.
Here's What's Going On:
In a market all too ready to give value to production space that a company is going to build, one day, some day – the bigger those plans are, the better. And, in terms of size promises, you just can't beat the claims made by Emerald Therapeutics. They're going to 4x Aurora Cannabis (TSX:ACB), if you ask them.
How big are those plans? When we published our recent Marijuana Datajam post about active and total square feet, we had to take Emerald and its nearly 4 million planned square feet off the graph to get a useful look at everyone else's ratio.
Most of these planned square feet are a retrofit of a set of greenhouses out in Delta in a joint venture with Village Farms (TSXV:VFF). You can't miss 'em if you're driving out the 99 from Vancouver, headed for the Alex Fraser Bridge, out to Surrey. Big, greenhouse-looking greenhouses over on the south side.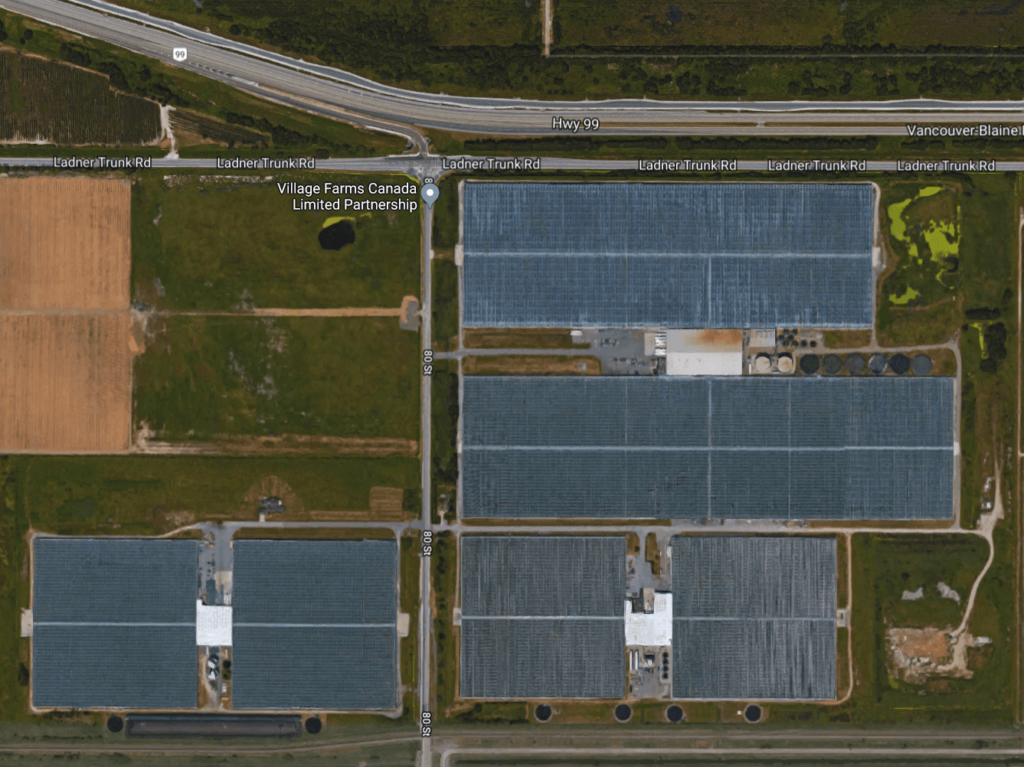 Emerald cut a deal this past June with Village Farms that has Village contributing a 1m square foot greenhouse, and Emerald contributing the $20m that it's going to cost to retrofit it. Emerald also has the option to "lease or purchase" two other greenhouses, presumably if the conversion of the first one works out. The first 1m square feet announced got the Health Canada green light for a test crop March 5, and the JV is projecting a license to sell from the property by July 1st.
Retrofitting existing greenhouses has a nice ring to it. It reads as a big upside. Emerald is telegraphing a certain amount of know-how that will make this project a smash success. That represented knowledge is in the subsidiary that operates their only active facility out in Victoria, Emerald Health Botanicals ("Botanicals").
But That's All We Really Know:
Botanicals runs a Health Canada licensed facility in Victoria. There was a time the company's literature touted a to-be-built 43,000 square foot expansion facility, but that appears to have been shelved in October 2015 while the company literature started to focus on expansion into a 50,000 square foot facility being built at an undisclosed location in Metro Vancouver, and another 50,000 square feet being built on the back end of that, on a 32 acre site that is rented to the company by its Executive Chairman. The timeline for that site's build-out was pushed out when the Village Farms deal showed up.
Emerald's current active production space is practically a company secret. There was an expansion of their Victoria facility 'to 29,000 square feet' back in 2014 when they were still "T-Bird Pharma," but it's unclear whether or not that was ever completed, or if it was part of the 43,000 square foot expansion that was canceled.
Emerald represents sales of marijuana that come out of their active facilities, but never reports how much. They also make it clear that some of their marijuana sales come from product bought and re-sold, but never put a number on that either.
The Future of Cannabis Bioscience. Definitely the Future
In case the License part of this Licensed Producer being in a sub doesn't have you confused, the majority of Emerald Health Therapeutics' stock (between 37% and 39% depending on how you count it), is owned by Emerald Health Sciences Inc., a private company with the same logo and branding as the Pubco.
Sciences scans like more of a biotech deal. They make investments in other cannabis-related biotech companies that are doing things that are way over our head and have business trajectories that are a lot more complicated than "grow dope and sell it." The milestones page of Sciences' website puts a target on "bioceutical" sales in the 1st half of 2017. It's unclear if they just haven't updated, or if bioceutical sales are no longer a priority now that the company owns more than $200M worth of liquid stock in Emerald, a company that had $200,000 in revenue last quarter.
Botanicals' facility of unknown size is sometimes framed as an R&D lab. They're working to develop strains, developing an extracts business, etc. The company is clear, though, that: "Through a combination of in house grow and wholesale purchase from other Licensed Producers, Botanicals expects to continue to provide a wide range of strains of dried marihuana and oils."
Meanwhile, in Paris…
Our research efforts sometimes suffer from misfiling of Emerald literature under the heading of Paris, Ontario based Emblem Cannabis, and visa versa.
Emblem, in some ways, is the anti-Emerald. The company's active production space is plainly available information, and so is their quarterly production. Emblem sold 50,800 grams in Q3 2017, all of which was produced in their 23,500 square foot facility in Ontario. Their expansion plans have them building out to 120,000 square feet at that site, and another 300,000 square foot facility at a site nearby.
300,000 is a much smaller number than 4 million, and the market appears to be valuing these companies on their bulk totals, ignoring the difficulty of the buildout or any demonstrated ability to make a system work in a footprint of any size.
As we pointed out in the Marijuana Datajam post about facility space, the relative under-valuation of active facility square feet may well be the mis-pricing that a fundamentals-based stock picker likes to jump on.
Following The Operator: A Regression To Reason
Clearly, we do a great deal of dividing things by other things to look for useful metrics and comparisons. But we don't want to leave the impression that ratios are all we're looking for, or that they always line up eventually. The idea here is to find things that are mis-priced, and do some digging to find out if they're mis-priced for any good reason.
In Emblem, we see a demonstrated ability to produce cannabis at a respectable rate, in a company that is cashed up and expanding.
Emerald, by contrast, has telegraphed an ability to produce cannabis but not yet demonstrated it.
They may well make these greenhouses work, but it's unclear when and at what rate. Certainly, a big footprint is attractive. But the market is giving it a big price tag considering the risk of it not becoming a going concern in the near term – or it becoming a monumental drain on their finances just to keep the lights on.
So What's An Active Square Foot Worth?
Last year, armed with all the paper value a Canadian pot company could ever hope for, Aurora Cannabis didn't go after Hydropothecary (1.3M sq ft planned, 42,000 active), or Marican (942,000 square feet planned, 30,000 square feet active), and they didn't go after Emerald (though that would be a discussion that ended quickly if the majority shareholder wasn't interested).
Aurora went after Cannimed, who, depending how you count it, had either 97,000 square feet or 193,000 square feet with the lights on, and only 100,000 square feet of to-be-built space announced. Aurora didn't quit until they got it, eventually paying $880M in cash and stock to get them.
Since Cannimed made their space a moving target (re-classifying the way they count it from quarter to quarter, selling most of their interest in the Michigan facility in Q4 '17), it's helpful to think of the Cannimed active space as being capable of producing about 470,000 gram equivalents per quarter. Consistently.
Back in January, that production was worth $1,818/gram to Aurora in cash and stock (on an enterprize value basis).
Emblem's enterprize value has them trading for $2,595/ gram of quarterly production.
Emblem's full announced buildout is right around what Cannimed's was at takeout time.
That metric is almost bang-on the $2,640 / of EV per gram of quarterly production that the cultivator class (more than 12 months production) is averaging. That makes perfect sense considering that, after two more quarters of production, one of which we expect the company to report shortly, Emblem will be part of that cultivator class. Technically we could put them there already if they broke out the pre-public production numbers by quarter.
We can't do an average like that for Emerald, because they don't publish their production numbers.
Emblem Cannabis' currently trades for around $5500/active facility square foot.
Assuming that the Emerald Therapeutics' active footprint is in fact 29,000 square feet, an investor would pay $23,500/square foot for it today. As we mentioned, its production ability, history, and cost is unknown.
Eventually, Emerald may well justify a bigger market cap than Emblem. That's a lot of space. Despite what appears to be drum tight ops, Emblem has had its struggles catching the imagination of investors. But this market is on fast forward. It's mispriced the risk in Emerald and the lack of risk in Emblem.
Based on numbers that we can see, not numbers we have to project, (including production and active space numbers we have to literally guess at), there appears to be a gap in relative value here.
Author is long Emblem, does not own Emerald.