On August 1st, Great Bear Resources (GBR.V) drilled a respectable 16 meter width of 5.6 grams per ton of gold at their Dixie property in Red Lake, Ontario, and the market yawned.
The $14 million dollar market cap (at the time) exploration company continued right on being ignored until they halted the stock this past Tuesday. After announcing another 16 meter width of 26.9 g/t Au from Dixie, GBR went on a tear Wednesday, trading 3 million shares and closing at $1.18. They were halted again an hour before close yesterday.
This morning, thirty six million dollar market cap GBR announced a $10 million private placement from none other than Rob McEwen and McEwen mining at $1.45, instantly making them $45 milllion dollar market cap GBR with $10 million in cash. They un-halted the stock to instantly become $50 million market cap Great Bear Resources. Presently, trading at $1.97 an hour before close Friday, they are $59 million market cap Great Bear Resources, and I can make a pretty good case that that's cheap.
Before making the discovery, Great Bear cut a deal that gives them the right to earn/buy a 100% ownership in the Dixie property. Full ownership makes them the people to talk to for anyone who wants a piece of this new gold discovery. Rob McEwan WANTS a piece of this new gold discovery, because he knows what it means.
Classic McEwen promo pic from the US Gold days. He's since lost the 'stache, but almost certainly still has all that gold.
The Red Lake mine, under Rob McEwan's direction, practically made Goldcorp (G.T).
Since his departure from G, McEwen has earned a reputation as an executive who backs his own deals and does whatever it takes to build mines. His namesake company McEwen Mining (MUX.T), is up 6% on the news, because McEwen knows what to do with grade in Red Lake.
It all hinges on the grade
Great Bear is calling this discovery the "hinge zone."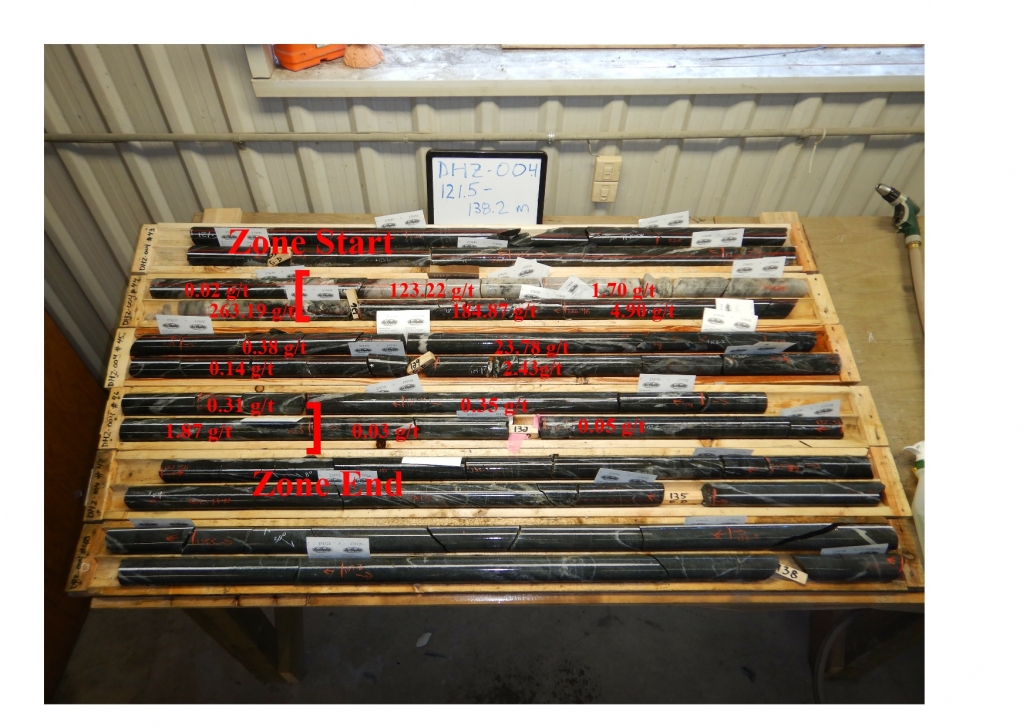 Annotated core from Dixie
In geology, a "hinge" is a spot in the middle of a fold. In vein systems like Red Lake, "hinges" are spots where openings in rocks allow gold-bearing fluids to pool, and give us something to write press releases about a few million years later. No word own whether the hinge zone at Dixie is actually a hinge, geologically speaking, or if Great Bear just knows how to get gold bugs' attention. These assays are from four of eight holes, and the company plans to drill a total of 20-25 holes this summer, totaling 5,000 meters, which is brilliant. It gives us something to dream on.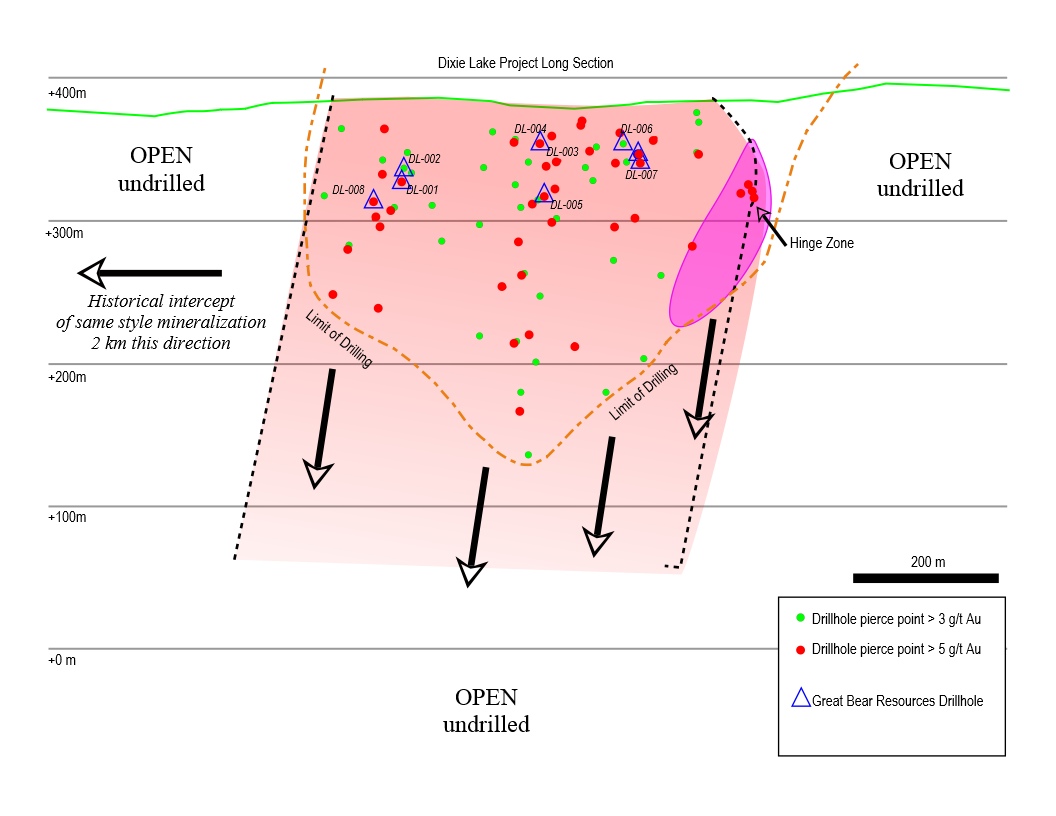 Despite a perpetually listless gold market, discoveries are still working. Subsets of that 22m, 19 g/t Au width graded five meters @ 51.39 g/t Au and one meter of 112.63 g/t Au. It's very early, and these are core lengths, not true widths, but so what? Sizing the zone and proving out tonnage is half the fun.
At that grade, it doesn't matter if the gold price goes up, down, sideways or in circles. If there are enough tons there to matter, it will make money. This listless, thirsty mining market is set to bet on it. So is Rob McEwen.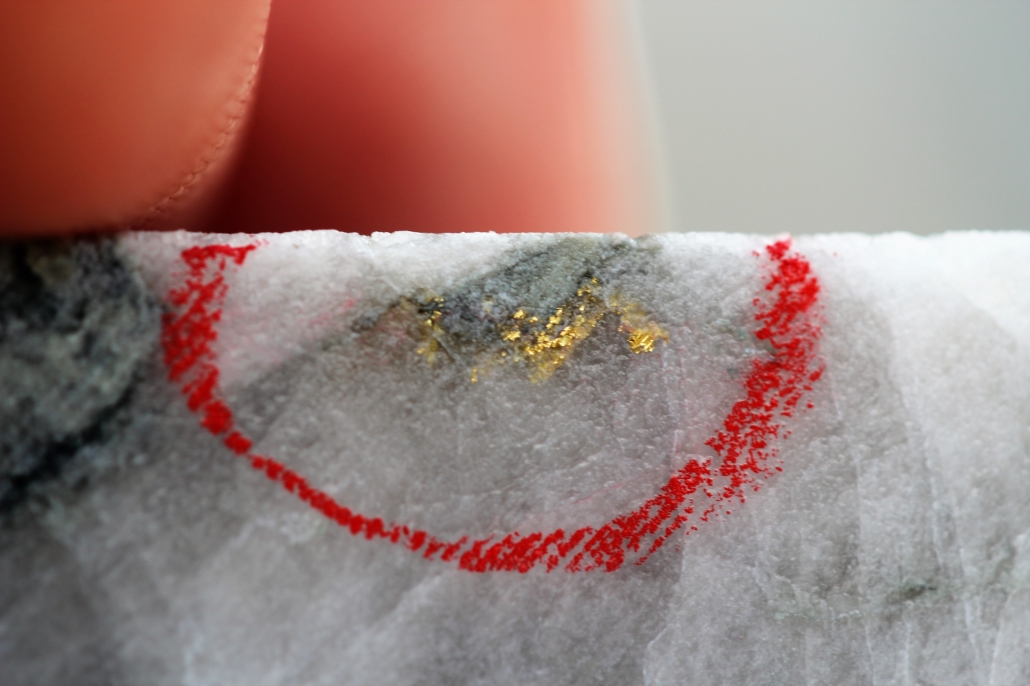 (Feature image of a grizzly bear courtesy flickr user Ny.)